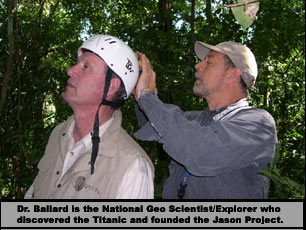 Scot worked as field production mixer, wrangling multiple mics, and locations on the last few Jason expeditions, including "Frozen Worlds," originating from Alaska in 2002, "From Shore to Sea" from the Channel Islands in California in 2003, and in 2004 on Jason 15, "Panama, Rainforests at the Crossroads."

The JASON 15 expedition (

http://www.jason.org) originated from the Smithsonian Tropical Research Institute, (http://www.stri.org), located Barro Colorado Island in the Panama Canal. STRI is one of the world's premiere research facilities. The Media Arts/JASON team produced five one hour live shows every day for eleven days in January of 2004 ,a total of 55 hours of programs.

A 30 person crew spent a week laying more than a mile of cabling, setting up cameras, audio and satellite uplinks. At the JASON downlink site in Plano, Texas, an additional crew of 30 was set to receive signals, add graphics and pre-produced footage and beam the live programs to viewing locations around the world.

Student Argonauts and Researchers prepared their experiments and research and reported live from the expedition site to more than a million middle school students and teachers across the country and in Mexico, The Bahamas and Europe.

The Program Host Researcher was Randy Morgan from the Cincinnati Zoo and a rotating cast of Argos.

Many students saw JASON as a three screen broadcast in more than 30 large auditoriums. The JASON broadcasts were also available single screen in classrooms, online and on The National Geographic Channel.

Educators have been impressed with the effect JASON has, making science compelling to their students. Students realize that they too, can become researchers, scientists and explorers if they apply themselves and study hard.

The technology and expertise behind the scenes that makes all this possible, remains transparent to the viewers. But, more than one science student on location asked the crew about what it took to get into film and video production.